Description
An output for each moment
Deep perspectives for unforgettable immersive moments.
Decor highlight for transitional moments.
A creative punch  for brightest moments
Each output is endlessly customizable thanks to the infinite range of possibilities offered by the DMX control: a depth of looks and experiences never reached before, from classic to modern to outstanding.
Goes with any kind of event
An easily incorporated design to deliver versatility in any show: music show, corporate event, aftershow, conference, club, broadcast, and many more.
Lightweight (16kg, 35lbs), compact (48cm), low power consumption (200W).
An adjustable handle for a quick set-up in any position.
An excellent RGB colorimetry
A standard programming and daily use.
An intuitive control, accessible to any lighting operator without training.
60 DMX channels offering control over 9 gobos, the dimmer & RGB for each of the 8 tilts, a zoom to activate the moving core and an electronic shutter. Go to the DMX section for a complete overview of the possibilities.
A modular conception for low maintenance, fast repairs, and an extensive lifespan.
Classified as Class 3R, IVL Photon is a laser-based lighting as safe as LED: it can be used in unsupervised areas according to the international standard (IEC 60825-3), without permit or specific training, and also variance-free in the USA.
Cost-effective and sustainable
For lighting designers, producers and event makers, a design based on IVL is a cost-effective, sustainable, and spectacular solution. Less fixtures needed, less logistics, less transport, and less power consumption: a real commitment for a lower carbon footprint.
For rental companies, a return on investment for many years: a pack of 6 IVL Photon can be deployed in many events on a weekly basis, offering a higher satisfaction to customers for a reasonable price.
Our vision: 
Most of the lighting fixtures are not used to properly light someone or something, but to produce an experience, with decor, perspectives & immersion.
Considering the fact that today's lighting fixtures are mostly mono-directional, it requires a certain number of fixtures and structures to answer the audience's expectations. If an arena show has the budget, time, and space for that, it is usually much more constrained in mid-sized venues.
In a mid-sized venue, the starting pack of luminaires is usually composed of only a few luminaires to actually light the artist and/or stage/or venue, as can be seen on the picture on the right.
Then comes the lighting fixtures dedicated to "making the show" and telling the story of the spectacle or event.
For this part, IVL Photon is a much more efficient solution than any other luminaire, requiring much fewer fixtures, lower logistics requirements, no structures needed, consumption, transport, and therefore, carbon footprint. You can make the show with one or two flight cases!
Choosing IVL instead of less-versatile luminaires it's:
Bringing the extraordinary even with constrained means and logistics
Saving on all the extra-costs: time, weight and volume of transport, maintenance, power consumption, etc
A real commitment to lower carbon footprint in live shows
How does it work?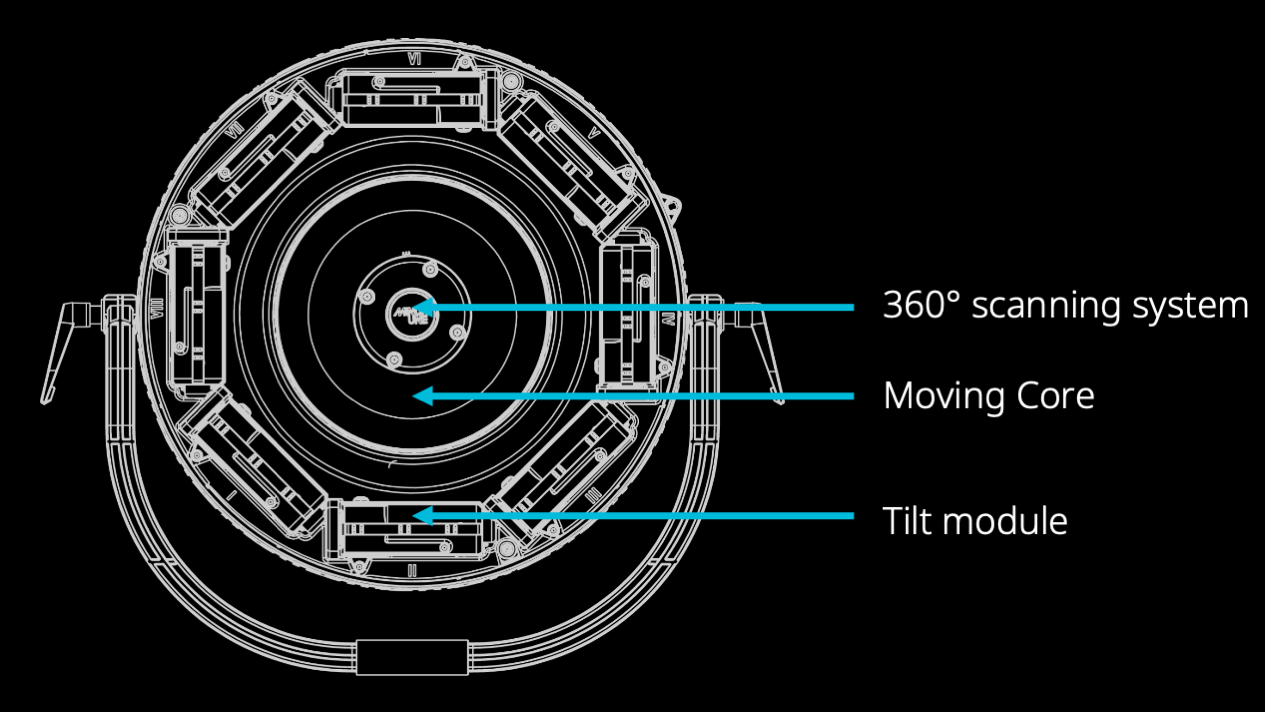 –  The failed-safe 360° scanning system, ensuring a constant very high frequency of rotation (>330Hz), produced a  360° light plan from the center to the 8 tilts.–  The 8 surrounding tilts split the light into 8 independent light plans adjustable at 180° with 2 sides by tilt: mirror side and frost side. Thanks to advanced motorization, the tilts are extremely reactive, while extremely smooth at very low speed.–  The moving core is the circular frosted reflector, located in the center of the product, that goes in and out, just like a zoom. A breakthrough innovation specially developed by Minuit Une for the IVL Photon.
3 MAIN OUTPUTS
Frost side of the 8 tilts The decorative output
A very smooth diffused output
Adjustable at 180° – wide coverage
From frost to mirror in 0,25sec
4 000 lux at the exit
DMX control: tilt parameters on the console
ON for tilt values between 0% to 50%
Mirror side of the 8 tilts
The immersive output
Wide coverage & directive perspectives
45° aperture by tilt
Calibrated for immersion in 500 to 5000 people venues
DMX control: tilt parameters on the console
ON  for tilt values between 50% and 100%
Moving Core The creative punch
A concentrated and directive frosted output with a variable diameter of diffusion
Create a powerful ring of light from an audience perspective
20 000 lux at the exit
DMX control: zoom parameter on the console
OFF for zoom values between 0% to 30%
ON for zoom values between 30% to 100%.
STANDARD DAILY-USE
Easy to deploy and maintain
class 3R
adjustable york
16 kg
48cm diameter
<200W consumption
60 DMX channels
LCD color screen
RDM
micro-SD card (software update)
low cleaning
very reliable
long lifetime  >10 000 hours
easy to repair (modular conception)
Class 3R
IVL Photon is a laser-based lighting as safe as LED: it can be used in unsupervised areas according to the international standard (IEC 60825-3), without permits or specific training, and also variance-free in the USA.
Modular conception The IVL Photon has been designed with a modular conception: the fixture is subdivided into smaller parts, the modules, which can be independently replaced. Each module is designed to be "plug & play" when replaced.
Save time: most of the repair operations are very fast, safe and easy. Replace the old module with the new one in less than 10 minutes.
Increase the lifetime of your fixture: the easier it is to repair, the more sustainable it is.
Save cost: instead of having spare fixtures with you (on tour for instance), bring the module suitcase with you.
They have seen the IVL Photon live
 "If I have to work with a low budget, I would base my entire show on the IVL Photon without any hesitation"
Antoine Jolivaldt,  lighting designer.
"Very impressed by its capacity to create many classic looks as well as breathtaking experiences" 
Philippe Audibert, PPCM technical director
"Compact by its size, extended by its potential. To all LDs: you must see it" 
Remy Nicollet, lighting designer
"A very good presence, the perfect fixture to change from the usual moving heads, blinders or strobes" 
Quang-Tien Nguyen, lighting designer
"Instantly seduced by the design of the fixture. I already project myself using this luminaire to tell a creative, evolving, and surprising lighting story during the whole duration of a show"
Olivier Germain, lighting designer
" We were expecting something with a wow factor at least as impressing as with the IVL Square, and we got it. This device is filled with innovations, possibilities and is cohesive with the IVL Square in my inventory" 
Benjamin Sinnassamy, Defacto, rental company.
"A self-sufficient luminaire in smaller venues. I had the incredible feeling of being in front of artificial intelligence capable of emulating different kinds of luminaires with extreme versatility"
Renaud Garnier Bouilly, lighting designer
Dimensions of the circular housing: 481 x 481 x 327 mm³
Total dimensions of the fixture (adjustable lyre included): 649 x 556 x 327 mm ³
Weight: 16kg
Modular conception: conception subdivided into modules, which can be independently and quickly replaced.
Protection rating: IP20
Menu display: LCD color screen
Low cleaning care: optical parts isolated from the haze
Class 3R laser product: extended source
Wavelength: 448nm,518nm,638m
Colours: smooth RGB spectrum
Beam diameter (1/e) at scanning vertex: >14mm
Beam divergence: >1,5mrad
Scan rate: 330HZ
Distance from scanning vertex to closest point of human access (NPHA): 240mm
Maximum output: 23,2 μJ
Typical average power at 1m: <1mW
Scanning motor: extensive lifetime brushless motor
Scanning angle: 360°
Mirror: R>98%
Safeguard: certified failed-safe
Mirror output
Mirror side of the tilt: 11,5x5cm PMMA mirror
8 independent mirrors: producing independent 8 light planes
Aperture by mirror: 42° linear aperture by tilt
Operating angle: 180°
Motorization: 8 steps to steps motors – 16 bits non-linear resolution
Movement: very smooth at low speed and extremely reactive
Maximum speed: from mirror to frost side in 0,25sec
Frost side of the tilt: 11,5x5cm frost filter
8 independent frost filter: producing 8 independent frosted outputs
Aperture by mirror: very wide
Operating angle: 180°
Motorization: 8 steps to steps motors – 16 bits non-linear resolution
Movement: very smooth at low speed and extremely reactive
Maximum speed: from mirror to frost side in 0,25sec
Output: 4 000 lux
Moving core output
Central circular frosted reflector: 5cm high, 24cm external diameter, 10cm internal diameter
Length of vertical movement: 6cm, 16 bits resolution
Speed: up to 6cm/sec in standard mode / up to 15cm/sec in fast mode
Output: 20 000 lux
Number of channels: 60
2 options: standard or fast mode
Update: by micro-SD card
Electronical gobos: 9 e-gobos
RGB control: independent RGB control per tilt (x8)
Dimmer control: independent dimmer control per tilt (x8)
Zoom parameter: control of the moving core position
Strobe: control over the frequency of the pulse and the duration of the pulse
Beam Control (e-gobos)
Number of beams: 1 to 256
Control: intuitive gobo like system
Gobo type: number of beams
Gobo size: width of the beam
Gobo indexation: position of the beam
Gobo rotation: speed and direction of the beam
Power supplyPower supply unit: 100 to 240 Volts – 50/60Hz
Power: 200 Watt maximumCooling system/ThermalCooling: thermoelectric cooling
Safety: protection against excessive temperatures
Nominal operating temperature of the laser source: 30°COperating parametersMaximum ambient temperature: 40°C (104°F)
Minimum ambient temperature: 0°C (32°F)Connections
AC power input/output: Neutrik PowerCon True1
DMX data in/ou: 5-pin locking XLR(Directive No : 2014/30/UE)
EN 55103_1:2009/A1:2013
EN 62311 : 2008
EN 55103-2 : 2009
Standards
Safety:
CB IEC60825-1:2014
21CFR 1040
ANSI Z136.1 "Standard for Safe Use of Lasers"
CB IEC62368EMC:EN55032
EN55035
EN61000-3-2
EN61000-3-3
FCC Part15sDoc
ICES-003
AS/NZS CISPR32, 35